You know you need to hire a Kajabi web designer to set up your sales funnel and make it look amazing, but you need it done like yesterday.
You Need a Kajabi VIP Day!
You'll get my personalized, undivided attention on your business for an entire day, so we can knock out the sales page of your dreams and get you selling ASAP, without the months of back-and-forth.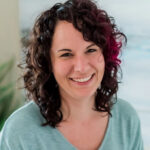 Hiring Kelly for a Kajabi VIP day was one of the best decisions I've made in a while. As a web developer, I'm picky about how things are done and have always been hesitant to hand website work off to someone else. With that said, I am absolutely blown away by how much Kelly was able to get done in the time we had and the quality of absolutely everything. I work part-time so she saved me over a week of work and it has been such a huge weight lifted off my shoulders. I couldn't be happier!
If you've ever had to hire a Kajabi web designer before (or any designer for that matter), you know the drill…
There's the waitlist, then the discovery call. Then the deposit and the "rough quote" that you know will end up being three times as much. Followed by the weeks or months of back and forth.
Talking, emailing, tweaking, waiting.
it doesn't have to be so hard
Let's cut through all the red tape.
My Kajabi VIP Days are one price for whatever we can accomplish in a day. They're one dedicated day, so you know exactly when and where you're needed. And you'll walk away ready to launch your course, sell your product, or just finally loving your website!
Not only do VIP Days get you your finished product faster, but they're a better bang for your buck since I'm much more efficient when I'm focusing on one dedicated task.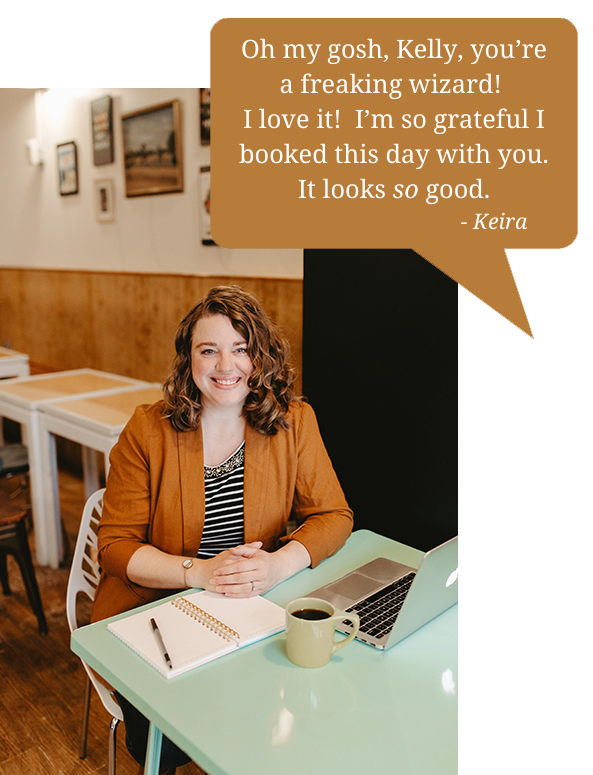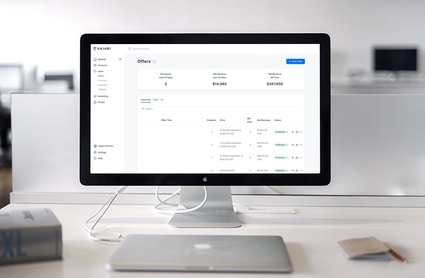 Here's an Example of what I can do in just one day...
When you book a VIP One-Day Intensive, you're paying for my time, and not for specific deliverables. The list above is not a guarantee. Progress depends on the size and scope of the project, plus your pre-work preparation and responsiveness during your day. If you need an entire website built or redesigned, please download my service guide.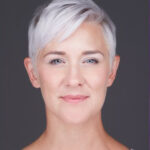 My Kajabi VIP Day with Kelly was a dream. She took all of my ideas and created a masterpiece! I am so proud to send out my funnel and I know that it represents the message and the purpose I stand behind because of the quality work Kelly created. I will work with Kelly over and over again!
Case Studies from Past Clients
Check out these design samples from recent VIP Days.
Click the image to view the full page!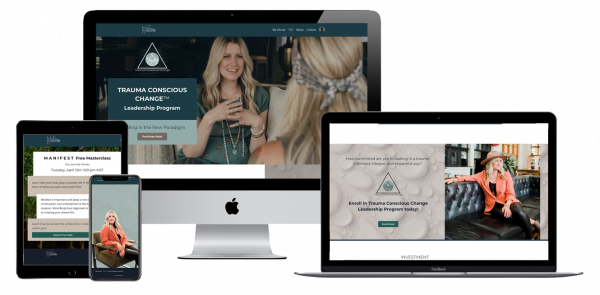 Chelsie was 3 days out from launching her new program and needed a sales funnel stat. I designed her program sales page, hooked up all the collateral, and created 2 masterclass opt-in pages for future webinars. Since her program is all about leadership, I kept the focus on her with plenty of headshots accented with moody colors and a high-end feel.
Each client also gets these personalized pre and post-day support bonuses:
Bonus # 1
Prior to your VIP Day, you'll get a complimentary 45-minute pre-intensive strategy call where we'll review your completed workbook and website copy. This ensures we're on the same page so we can be as productive as possible during your 7-hour day.
Bonus # 2
Along with receiving all of the files and graphics used on your site, you'll get personalized walkthrough videos once the day is complete. My goal is for you to leave your day feeling empowered in regards to your website and the tech behind it.
Bonus # 3
Following your VIP Day, you'll receive 30 days of ongoing email support to answer any questions you might have about your site or the work I did. I'll create additional instructional videos as needed when an answers warrant a demonstration.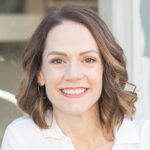 I loved that it was all done in one day. Others that I consulted with said that completing the same amount of work might take weeks. The follow up and educational videos afterward were so helpful!
Your Kajabi VIP Day in 4 Steps:
The time is now!
You could join yet another waitlist, or you could hire a Kajabi web designer for a VIP Day and get everything done in just one day.
My clients are amazed at what we can accomplish in one day! 
Days are limited and I only take 1 per week. Once you choose your date, you'll receive your invoice and contract via email.
*My prices are going up June 15, 2022!
If you aren't quite ready to choose a date, you can pay the retainer now to lock in my current pricing, then select your date later, as long as your VIP Day takes place before September 15. Contact me for details.