You know you need to hire a Kajabi designer to create your sales page, but you need it done like yesterday.
You Need a Kajabi VIP Day!
You'll get my personalized, undivided attention on your business for an entire day, so we can knock out the sales page of your dreams and get you selling ASAP, without the months of back-and-forth.
If you've ever hired a designer before, you know the drill…
There's the waitlist, then the discovery call. Then the deposit and the "rough quote" that you know will end up being three times as much. Followed by the weeks or months of back and forth.
Talking, emailing, tweaking, waiting.
it doesn't have to be so hard
Let's cut through all the red tape.
My Kajabi VIP Days are one price for whatever we can accomplish in a day. They're one dedicated day, so you know exactly when and where you're needed. And you'll walk away ready to launch your course, sell your product, or just finally be found online!
Not only do VIP Days get you your finished product faster, but they're a better bang for your buck since I'm much more efficient when I'm focusing on one dedicated task.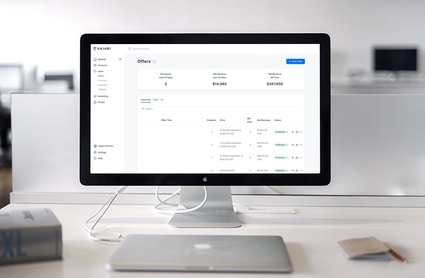 Examples of What I can do in 1 day:
When you book a VIP 1-Day Intensive, you are paying for one day of my time, and not for specific deliverables. The list above is not a guarantee. An entire website (more than 3 pages) is probably unrealistic. Progress depends on the size and scope of the project, plus your pre-work preparation and responsiveness during your day. That said, creating a sales page in one day is absolutely within my ability in most circumstances.

Case Studies from Past Clients
Wondering what I can do in 1 day? Check out these samples of recent VIP Days:
To see the entire page, click the image, then use the + button at the bottom of the screen to zoom in. Grab and move to scroll.
Each client also gets these personalized pre and post-day support bonuses:
Bonus # 1
Prior to your VIP Day, you'll get a complimentary pre-intensive strategy call where we'll review your homework and website copy to ensure we're on the same page so we can be as productive as possible during your day.
Bonus # 2
Along with receiving all of the files and graphics used on your site, you'll get personalized instructional videos once the day is complete. My goal is to for you to walk away feeling empowered in regards to your website and automations.
Bonus # 3
Following your VIP Day, you'll receive 30 days of ongoing support via email or messenger to answer any questions you might have about your site or the work I did. I'll send along additional instructional videos as needed.
Your Kajabi VIP Day in 4 Steps:
The time is now!
You could join yet another waitlist, or you could skip the line and get everything done in just one day.
My clients are amazed at what we can accomplish in one day! 
Days are limited and I only take 3 of these per month. Once you choose your date, you'll receive your invoice and contract via email.