If you saw my email list, you might be confused.
While the majority of my email subscribers are course creators and coaches who are thirsty for Kajabi knowledge (and enjoy weird GIFs), there is a good chunk who are wedding professionals and photographers.
See, long before I did what I do now, I was a wedding photographer. And when I first started working as a general VA, many of my clients were wedding pros (after all, I know the industry well!).
So what do I do with all of these people that are still on my list? After all, they definitely don't want to hear about Kajabi stuff.
I put them in a segment!
Forms work great for this – giving them the option of what to hear about directly on the form (or adding a tag depending on what freebie they signed up for).
But oh no! You already have a bunch of email subscribers and no idea what segment they belong to!
No worries. You can send an email out to your entire list and ask them to segment themselves.
Here's a quick rundown of how to segment your Kajabi list using email automation:
Segment Your Kajabi List by Asking Them to Segment Themselves
1. Prepare an email in Kajabi for your entire list.
2. Inside the email, ask them who they are or what they want to hear about moving forward. Give them some options in a list. It would say something like "If you're a coach or course creator, click here."
3. For each option, where it says "click here," you'll link to a different landing page. I recommend creating a simple one for each option that says something like "thank you, your preferences have been saved." (Yes, all of the landing pages can say the same thing – thank you, cloning abilities!)
4. Once you've linked everything to different pages, hit "save."
5. Now return to the edit page and down at the bottom, you'll click "Add Automation." You want to create a separate automation for each segment option that adds a tag when they click the URL. For example, if they click on the coach or course creator option, they get tagged "Kajabi."
6. Save and send the email, and watch your list segment themselves!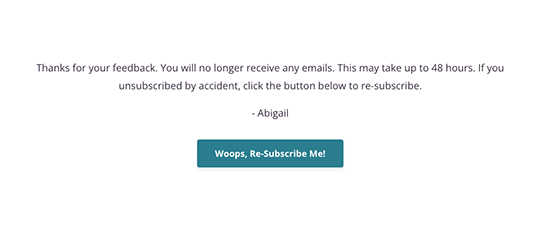 I like to create an option for people to unsubscribe as well (without hitting that scary "unsubscribe" button at the bottom!). My unsubscribe landing page looks a little different. There's a take-back option where if they hit it by mistake, they can click a button and a form will pop up. When they fill out the form, the "unsubscribe" tag gets removed. I check this tag every couple of days after sending the email and manually remove anyone who requests it.
When Only 2% Clicks
Sure, this method isn't fool-proof. When I sent this to my client's list, only about 2% of people clicked any link at all. But you have to keep in mind that if the contact is happy with the content you've been sending, they're unlikely to click anything. Also, only your very best contacts who love to open and interact with your emails are likely to take advantage of this self-segmenting process. That's okay! They're the ones you really want to keep happy anyway.
Once you get your list segmented a little bit, you can start sending emails to certain groups (or excluding certain groups) to make sure your list is receiving only the information that's relevant and helpful to them!
Speaking of email lists, mine is awesome, and chock full of helpful Kajabi and business tips! Sign up here.