Your course is ready to go, but when you log into Kajabi to create your sales funnel, you feel overwhelmed and lost.
Like 'Oooo, look, there's some laundry that needs to be folded!' type of overwhelmed.
You know you need to just dive in and get started, but what if you start in the wrong place? What if you forget a step along the way? 
You're a busy entrepreneur, and don't have the time to be backtracking through Kajabi all day or trying to remember where the checkout page is.
Isn't there a more efficient way to do this? 
I've got you covered with my FREE Kajabi checklist!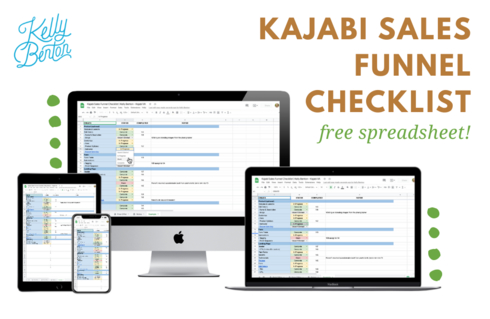 Inside this free spreadsheet, you can track your progress across 40 different tasks that will get your course, offer, checkout page, sales page, and everything else ready for launch!
This will become your go-to home base for all your future launches and an easy way to update your team on what still needs to get done.
Grab your free copy here:
By submitting this form for the Kajabi checklist, you agree to receive periodic emails from Kelly Benton.